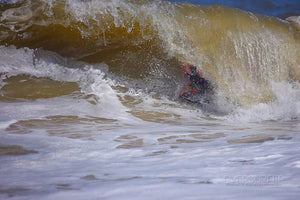 New To The TEAM!
Name : 
Shanna Grafeld
Age: 30
Home break: St. Augustine Florida (formerly South shore O'ahu and Long Island NY back in the day)
Years riding: 15
Board size: 40″

Favorite thing about Congo Boards: The boards are made with quality materials in the US

Dream surf trip: Indo with good friends and good vibes

Favorite Quote: "The ultimate test of your greatness is how you treat every human being"

Current board: Custom congo

Favo. move: Getting barreled!
Board Specs:
I really like the dimensions of the board I'm riding right now because one of the biggest challenges as a lighter rider has been using boards that have way too much float for me. I really like these dimensions : Nose (11.5in), Nose-Wide point (14.25in), Wide point (20.5in-measured from widest point on each rail), Tail (18in), with a single stringer, nose grips, crescent tail, and 55/45 rails, 40″